Missouri City Furniture Cleaning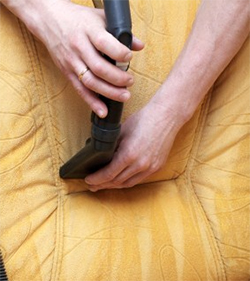 Are our cleaning solutions safe for my home, family and pets? Absolutely. Our non toxic gentle cleaning solution deep cleans your upholstery while being friendly to our environment. We take great pride in being an Eco- Friendly Company. Our exclusive treatments are designed to treat pet urine stains. However, even with the most advanced techniques, urine can sometimes permanently discolor upholstery fabric.
Depending on the fabric you have, we may be able to use our enzyme producing treatment to remove both stains and offensive odors. This is a procedure that can only be determined once our technician evaluates your fabric. How long will your upholstery take to dry? After our services, the upholstery is left just slightly damp to the touch. Most fabrics usually dry in 4-5 hours. However any areas that require additional cleaning or preconditioning may take longer to dry. If drying time is a concern, we can take special steps to try to speed this process up for you.
Does our cleaning include stain removal? Yes. Our service includes treating for all spots and stains that have not dyed the fibers of your upholstery. Red dye stains and pet stains are examples of stains that can dye or discolor upholstery permanently. Our prices are based on specific pieces of upholstery. Our friendly staff can usually quote you an exact price right over the phone. Don't wait any longer to clean your upholstery or furniture, call us right away and we can help.
Furniture Cleaning Services
We typically ask 2 things from our clients: -Open the blinds and curtains in the rooms to be cleaned so we get as much light on the upholstery as possible. -Turn ceiling fans on to encourage fast drying times. Why is our service better then the other national companies? Our exclusive service uses low moisture to perform our cleaning. This means we can effectively re-clean areas multiple times if necessary without risking over wetting the fabric. This ensures we get the best result possible for you.
Our company also has strict requirements of the techs that represent our company. These are all seasoned professionals who actually have a stake in their local branch. Because of this partnership arrangement with our Service Technicians , you can be assured to get a service that will surpass your expectations. We know that value is important to you. We have options you won't find with other upholstery cleaners. Our unique service has available discounts just for you.
You never have any hidden fee charges. Our Air Duct Cleaning Service is complete. There are never any hidden charges with our service and we say it again because we truly mean it. Our seasoned Service Techs are here to provide you with the most pleasant experience possible. With no surprises and no bait and switch tactics. You can trust the price we quote you.
Our Furniture Cleaning Service includes complete treatment for all spots and stains that may exist. Our experienced technicians know the latest techniques for removing stubborn spots and stains. Our stain guarantee is simple: We guarantee to remove all stains with the exception of dye stains, bleach stains or pet urine stains. No matter what stain you might have in your couch or upholstery, we can surely get it out for you. We will have your home looking like new in no time.
Furniture Cleaning Service Areas
Our quick dry results allows us to put your furniture back in use in absolutely no time. Our furniture cleaning process keeps the moisture to a minimum during the cleaning process. This allows the fabric to dry much faster then conventional steam and high moisture shampoo cleanings. When you want reliable and professional service and professional cleaning workers in your home doing the job right time and time again, you need to give us a call.